Arrivederci!
Monday, August 09, 2010
TODAY is the big day, folks!  By the time this is published, Tyler and I will be on a plane bound for Paris for our first ever trip to Europe!
We've packed our cameras, the iPad, and the mini laptop so I'm hoping to update from abroad—which would be WAY easier than one hellacious post when we get back…  So if you want to keep up with us as we trek through Italy, here's a brief overview of our itinerary:
Day 1-2: Paris 
We're flying into Paris and I couldn't NOT take the time to stay awhile and see the Tour d'Eiffel… We have a good friend here in DC who is French and grew up in Paris, so he created an itinerary for us for our brief time there.  We'll be there on our anniversary which will tres romantique (and hard to top in the years to come….).
Day 3: Venice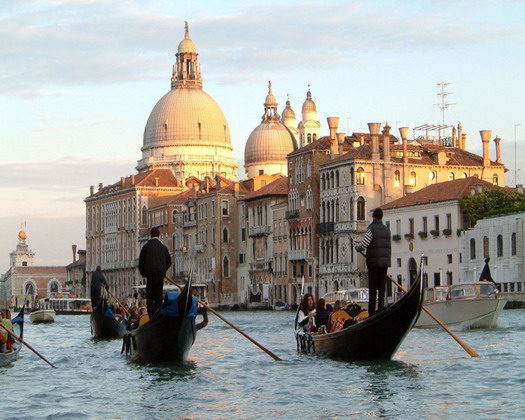 We wanted to stay for longer, but we also wanted to make sure we saw the smaller towns and cities of Italy, so we scrapped a second day in Venice for a stopover in Verona on our way south.  I can't wait to visit this water-laden city…
Day 4: Fair Verona
My brother visited my sister-in-law when she studied abroad in Florence and he claimed Verona as his favorite city… Am I going to write a love note and leave it in the wall of Juliette's house?  Heck yeah.  I'm also hoping I can find this place…
Day 5: Cinque Terre
Cinque Terre ("Five Lands") is set along the coast of Italy, north of Tuscany.  Five small fishing villages dot the cliffs above the coast, each about one mile apart, and you hike from one to the next.  (Or you can take a train.)  People say it's one of the most beautiful places on earth.  I believe the people.
Day 6, 7, 8: Florence
Finally!  Three days in one place.  I fully anticipate we'll need some R & R by this point, so Tyler and I are planning on relaxing here, just walking around, visiting museums, and taking tours out to the Tuscan countryside for some wine tasting.  We've also been given great food recommendations in this city, so I'll be donning my stretchy pants!
Days 9, 10, 11: Rome 
Roma!  There is a LOT we want to see and do here.  I get giddy just thinking about sticking my hand in the Bocca della Verita (are we even allowed to do that still??). Our hotel sits at the bottom of the Spanish Steps and we're excited to see the major sites like the Coliseum, the Catacombs, the Vatican (No word yet on if we'll actually wait in the ridiculous line to get in…).  We also have some great recommendations from Tyler's boss on what to see, do, and consume to see the smaller side of Rome.
Days 12, 13, 14: Sorrento/Amalfi Coast
Here's where I really think my heart might burst with excitement.  We're renting a car in Rome and driving south along the Amalfi Coast to Sorrento, which we hear is one of the most gorgeous drives in the world.  We're prepared for traffic, who cares when you're hanging out on a cliff overlooking the Mediterranean?  Sorrento will be home base, but all of the coastal towns, like Positano and Capri, are a quick drive (or ferry ride) away.  We tried to keep our hotel costs modest throughout our trip, but we decided to indulge and treat ourselves to a little bit of luxury on the tail end of trip… Check it out.
We have planned and saved for this trip for a long time now and we are under no illusions for how blessed we are take it.  Fun won't be a problem, but please for our safety (and sanity!) while we're away.
So that's it!  Peace out, America!
Ciao baby.